Massage Therapy at OPEN SKY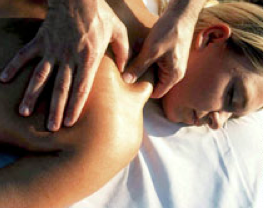 30 minute massage     $38
45 minute massage      $50
60 minute massage      $65
90 minute massage      $80
120 minute massage    $100
Hot Stone 60 minute massage      $80
Hot Stone 90 minute massage     $100
Couple massage 60 minute          $130
Couples massage 90 minute        $160
Massage Therapy Sessions 
A Swedish massage targets specific areas of the body to relieve tight muscles, stress or tension. Each session is designed to meet your needs to enhance relaxation and stress relief. Massage improves circulation, encourages relaxation and creates a sense of serenity.
Hot Stone Massage 
The ancient art of healing using hot basalt stones brings deep relief to tense muscles and sore joints. Hot stones are placed on the body to help relax tight muscles and reduce tension. An incredible relaxing experience in the cold winter months.
Couples Massage 
at any time of the year, together in a private treatment room is available.
Massage Therapy for Pregnancy 
A massage session specifically for women in the childbearing year. Using pillows and comfortable positions this massage can relieve low back, neck and overall body tension. Many women have their first massage during, pre or post pregnancy. Call if you have any questions.
Chair Massage 
Chair massage is designed specifically to relax the muscles, improve circulation and movement within the body. Chair massage can be set up in any environment, office, home or a specific event. You are fully clothed in a seated comfortable, specially designed massage chair. Call 315-376-2256 to discuss your event and prices, ask to speak with Cindi Gordon.
Dinner & Massage Packages ~ All Inclusive Packages ~
The Ridgeview Inn, OPEN SKY and Ridge View Lodge have joined together for an exceptional evening. All three business are located in Lowville. Call OPEN SKY for details and to schedule your package. These packages make a wonderful gift, celebration and special event. 
Dine & Unwind ………………………………………………………….. $230
A Romantic Couples Massage at OPEN SKY Healing Arts Center, followed by dinner for two at The Ridgeview Inn.
The Perfect Night………………………………………………………. $460
Couples Massage in the privacy of your room at The Ridge View Lodge; followed by Dinner for two at The Ridgeview Inn. Includes one night stay with king size bed, Jacuzzi Tub, wireless internet, and Continental Breakfast. You will love this memory!
The Perfect Night is an Inclusive Package  -  Call for available appointments
All taxes & gratuities, Dinner for Two: at The Ridge, One Hour Couples Massage, One Night Stay with King Size Bed, Jacuzzi Tub, Cable TV with HBO, wireless internet, and Continental Breakfast, (Pre-Paid Gift Card for Dinner given at time of purchase), 2PM Check-In & 11AM Check-Out
Package Reservations & Cancelation Policy
$75 non-refundable deposit is required at time of reservation.
Your massage is booked before your dinner reservation.
Call as soon as you desire date, is appreciated for better availability.
Additional Amenities with Packages
Dozen Roses $60
Candles $30
Snowmobile Package (call The Ridge View 315-376-2256)
7491 New York 12, Lowville, NY 13367
Additional Night Stay at The Ridge View Lodge are available
Massage Therapy Off-Site 
Massage Therapy in the comfort of your home, hotel, bed & breakfast, or vacation home. A massage therapist will come to your location, this is a wonderful idea for couples, bridal parties, anniversaries, or special events. Calling in advance for larger groups is appreciated.
60 minutes      $100 per person
90 minutes      $125 per person
Call Kathleen 315-376-2256 for details to set up your event, retreat or special occasion. For larger groups 3+ persons, each massage is $80 per person.
Massage Therapy is a great gift of health and relaxation.
Gift certificates can be for any dollar amount or a specific massage session.
Gift certificates can be picked up at our office, or call ahead and we will mail the gift certificate to that special person. Gift certificates are great ideas for birthdays, holidays, graduations, retirement gift and many special occasions.
We accept cash, checks, VISA and MasterCard, Discover, American Express
Go to "Book an Appointment" and continue to our ONLINE STORE to purchase a gift certificate! You can have them send via email, on a specific day!
Call (315) 376-2256 for more information. If you are mailing a check to us, please send to:
OPEN SKY Healing Arts Center
7383 Utica Blvd.
Lowville, NY 13367